Get Your Personal Guide to Success
If you want to be rich and successful, you need to learn to think like the rich and successful people, learn what they know and most importantly think and do what successful people think and do.
We, at Krishna World Wide are dedicated to help individuals choose a path to realize their dreams and goals through our Mentorship Program where they can get a personal coach who will work with and guide you step by step to help accomplish your goals.
We realize the importance of having a mentor a coach is absolutely essential for organized success and therefore, in today's competitive world, if you are looking to either start a career, start a business, change career path, brand yourself or create a passive income for your family – we can help.
The Power of Working with a Personal Coach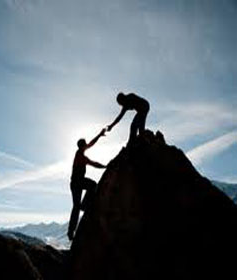 Your coach works with you one-on-one to formulate a plan for personal and financial growth, laying out the steps that will help you achieve your goals. Your coach's main focus will be to help you learn and utilize success principles in your favor and provide you the planning tools to help you succeed personally and financially. Working with a coach helps you:
Discover what's really important in your life
Formulate a plan to achieve them
Eliminate any obstacles that stand in your way
Celebrate your successes
Having a Krishna World Wide coach can help you shift your perspective and find new or different solutions to achieve your goals. It is inspiring, exciting and action driven program. By working with a Krishna World Wide coach, you can bridge the gap between where you are now(In case you feel stuck in the rut) and where you want to be.
By raising your awareness of what you can accomplish and helping you can find the strength and power to rise to the challenge that lies in front of you, your coach can help you realize your true potential.
If your goal is to become financially secured, you need to first change the way you think about making money because your thoughts lead to your actions and your actions lead to results. By having a personal coach, you can take these principles and quickly apply them in your life. You'll have the feedback and encouragement you need to get out of the Rat Race.
Depending upon your goals, your personal guide to wealth may include starting a business or investing in paper assets. The one-on-one attention with your coach gives you invaluable feedback as you develop your strategy for financial freedom.
Don't Wait – Take Action!
If you are still here reading this page, don't just click elsewhere. If you already have not accomplished your dreams and goals, it is an opportunity to explore your options of having your personal friend, a coach of your own who can walk the walk with you. If you are serious about your dreams and goals, it's time to get your own Krishna World Wide Coach.
All you have to do is, fill the form on the right side, get in touch with the team, and somebody who is best suited for your situation, will get in touch with you to understand more about you and help you explore your options for achieving your goals.